A large percentage of kiwi aviation enthusiasts live in Auckland, so here is some information about plane spotting areas in the City of Sails.
------------------------------
1. What you need to bring
It is a good idea to bring digital camera along to snap lots of shots which you can show your friends and upload to the internet later. Try to bring a blank memory card so you don't run out of space, and set your camera to take the highest resolution images as possible to get the best quality captures.
If you can afford one, purchase an RF Scanner. There are a few on trademe, but DSE do an awesome little one made by Uniden that not only scans air traffic frequencies but other "action bands" like fire, police and ambulance services too. The scanners are very useful because you can what aircraft are coming into land, as well as the tower chatting to them telling them where to park up etc. Check out the specs here:
http://www.dse.co.nz/cgi-bin/dse.storef ... View/D2764
Depending on your location, and how far you are away from the aircrafts flight path, you might want to bring along some binoculars so you can see objects in the distance clearer. This also depends on your eyeseght
Always take a pen and paper, and write down the registration numbers of the aircraft you see, and then when you return home, enter the code into the "CAA Aircraft Register Database" here:
http://www.caa.govt.nz/Script/Air_Reg_Query.asp
to find out the exact details of the aircraft you saw.
Last of all, if you are going to an International airport, visit the website (
http://www.auckland-airport.co.nz/fligh ... =A&range=I
) or check teletext to find out what flights will be arriving and departing, and write down the airline's you are expecting to see, then when you see them for real, cross them off your list.
-------------------
2. Places to do it
Mechanics Bay Heliport
is good place to start, right in the middle of the city, as you would know if you have REAL NZ Auckland City installed. Originally the countries only international airport in the 1930's, the base served as a seaplane terminal where flights from Britain that connected through from India via Singapore and Australia landed.
There is a rock jetty with a pathway along it which you can walk to the end of (See red circle on image below), and get great views of the Waitamata harbour as well as inbound helicopters and the whole heliport apron.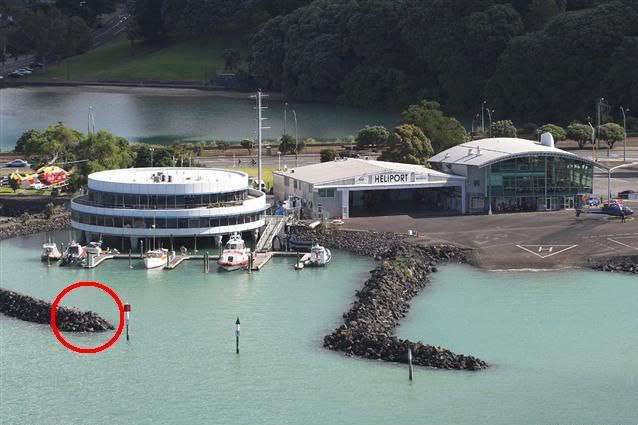 Auckland International Airport
is where "New Zealand touches the world" and of course has a lot of large jets coming into land regularly, as well as heaps of smaller domestic and private aircraft round the clock.
There is a purpose built lookout on Puhinui drive (See red circle on image below) with car parks and benches, which is usually full of just as many families having a relaxing day out as enthusiasts like us.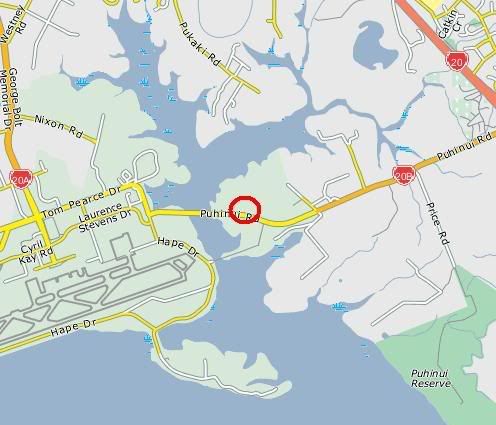 TIP:
If you continue to the western end of Puhinui drive, and take the first left of the roundabout, and park somewhere on the next short road, or the carpark next to the DHL freigh terminal, there are lots of fences where you can get close up with the aircraft.
Ardmore Airport,
the busiest airport in the country has dozens of privately owned general aviation planes, regional airlines and lots of Warbirds (especially on Sundays) landing and taxing of. Peak time is between 12pm and 6pm, so take that into account for the long drive out into the countryside nearby Papakura.
There are numerous places around the airport which you get up close, but the only place I have been to is the car park of the Auckland Aero Club which is right next to the petrol pump, and if you stay there long enough you should be able to see some prop's up close as they come to refuel.
Two airports in the region that I am yet to visit are
Whenuapai Air Force Base
in Waitakere City, and the
North Shore Aerodrome
, so if anyone has been there- please share some good places for spotting!
I think that is all there is to share,
Feel free to add your own information to this thread
.
PS. Check out these pages for some neat planespotting photos from both here and abroad:
MyAviation.net
http://www.myaviation.net/
Laasdaa.com "">
http://www.laasdata.com/
JetPhotos.Net "">
http://www.jetphotos.net/
Airliners.net "">
http://www.airliners.net/
Jetspotter.com "">
http://www.jetspotter.com/
Planespotters.net
http://www.planespotters.net/
SpottersWiki.com "">
http://www.spotterswiki.com/
PlanePictures.net"">
http://www.planepictures.net/
Plane-spotter.net"">
http://www.plane-spotter.net/
Airline Pics "">
http://www.freewebs.com/airlinespics