This was for Sunday Dinner, but every type of dinner is much the same in The Land of the Old English!
Proper, good-for-you meals, cooked every day of the week!
Oven Roast shoulder of pork with crackling, and apple sauce.
Oven Roast Potatoes.
Boiled Potatoes. Mashed with Garlic, Butter and Milk.
Boiled, assorted fresh Vegetables.
Onion and Garlic Gravy, with chicken/beef stock, and vegetable stock, and Bisto gravy thickener!
...and a glass (or three) of something very nice!
Food for the Gods..(and me)!
Shopped for, prepared, cooked, and served each day by; Fozzer!
Skewered, sliced, salted and spiked with Cloves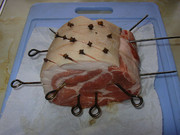 Popped into the oven, Gas mark 8, for 1/2 hour, then Gas mark 4, for as long as it takes!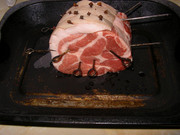 Lots of assorted fresh vegetables, boiled in the saucepan!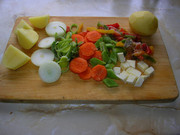 Ready for the carving after it has rested for a while!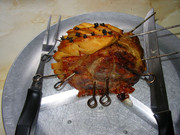 Dinner is Served!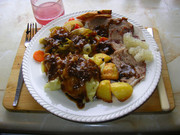 ...and now the plate is clean!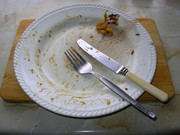 Enjoy....
...!