As
announced previously
, this GNZLAP Special Release is now on AVSIM.
Ever wondered where to fly your Fletcher?
Wonder no more…there's a guided tour awaiting you, courtesy of the Wanganui Aero Work Fletcher fleet.
This package is a little different from previous GNZLAP releases.
The focus is still on AI planes in New Zealand - but this time they are treated as guides to take you to some of the challenging airfields and farm strips in the Taranaki/ Wanganui/Manawatu districts.
Following the AI planes will lead you to some of the farm strips where the Fletchers (and Cresco's) stop to load up, before heading out to the fields for topdressing duty.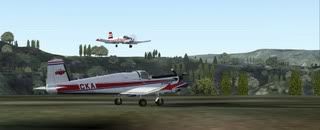 Startup flights are included; out of Wanganui NZWU, Stratford NZSD and Taihape NZVR.
These sceneries have been uploaded concurrently by Snowman.
You should download and install these first, as they are required for the package to work properly.
AVSIM is having a little finger trouble today, so please be a patient!
A search on "Charl" by date will no doubt get you there...