There's a lot of text here, so I'll break it up with some screenshots of the upcoming Taieri airfield for MSFS. A work in progress, so what you see is not what you'll get. I've set the weather to blah because anyone can make a MSFS scenery look great by setting it to dusk and making it rain. I want to make scenery that looks good even if it's a dull old day.
Sure, some people found 2020 very successful, especially those who were in a position to take advantage of changing markets, or those who can shut off feelings of empathy for others. But I suspect that most of us didn't enjoy the ride, and even those who came out unscathed would probably not describe the year as 'meh'. Me, I hated it. I could have happily gone through my entire life without experiencing a pandemic. So while 2021 has a lot to live up to, I'm not even half-way convinced that the worst is over.
Personally I dealt with a few issues which were not covid-related, but were compounded by it. I won't go into those here, though. Business-wise, covid didn't really make much difference. Having a product which can be sold entirely without physical contact in any way certainly helps. The 'stay at home' promotions were quite successful! But my sales had already been reduced long before covid, initially due to the announcement of MSFS, then things got very lean when the new sim was released. This is part of the fun of being in business, especially in a market which wouldn't register on most people's radar. I have almost supported myself just from flightsim development for the last 15 years. I just had to look that up, and I'm amazed it's been that long, this month is my anniversary, so I should celebrate with a good book and a glass of cheap wine.
One result of this downturn was that I am no longer on track to reach the expected sales figures for NZCH. For this post, I actually checked the total sales for the first time, not quite as dismal as I thought, and with commercial licensing included I would be very happy with the result so far, but ongoing sales will be few and far between.
Still, I am more excited than normal with what we have, and are yet to get, with MSFS. Sure, it's unfinished, but even that is a good thing -- FSX was 'finished', but it wasn't the ultimate sim. If we are lucky, in a year or two we will have something which we hadn't expected, or even deserved. Note that I'm mainly looking at this from my perspective, as a developer, who has spent hours per day within the sim over the last three months and probably only taken off half a dozen times:) Flying is for those who can't handle the thrill of scenery development....
I won't be making any promises here, I've always very aware that I'm not great at fulfilling all my promised projects. That's not to say that we'll never see a Real NZ Aerofly or X-plane scenery. However Aerofly FS2 will need to fulfill a lot of their promises first, and I still have the same issues I always had with the X-plane community -- I don't know if the few who threaten me and my business are part of an actual concerted group, or just a bunch of kids, but it still scares the crap out of me. And I'm not just being paranoid, I have dealt with this sort of thing before, and had to work hard to protect myself. So any X-plane development will probably need to be a joint effort, outside the Godzone/Real NZ label.
So that leaves MSFS. Oh yeah, there's Prepar3d as well, which is still a great sim, but as I've said, sales of Prepar3d scenery are just not happening. Committing to something new for Prepar3d would need a huge resurgence in sales, mainly of NZCH, which is my 'current' main product. And I may have already suggested that the FSX version of NZCH was probably the last FSX project I'd ever complete. FSX, I love you, but you should take a well-deserved retirement, and let your offspring soar! I would suspect that I've not sold more than 20 copies of NZCH for FSX, and that took months of work to complete. I don't actually know the figures, as NZCH is just one single multi-version product, and I'm not counting those who bought it for Prepar3d and have since downloaded it for FSX.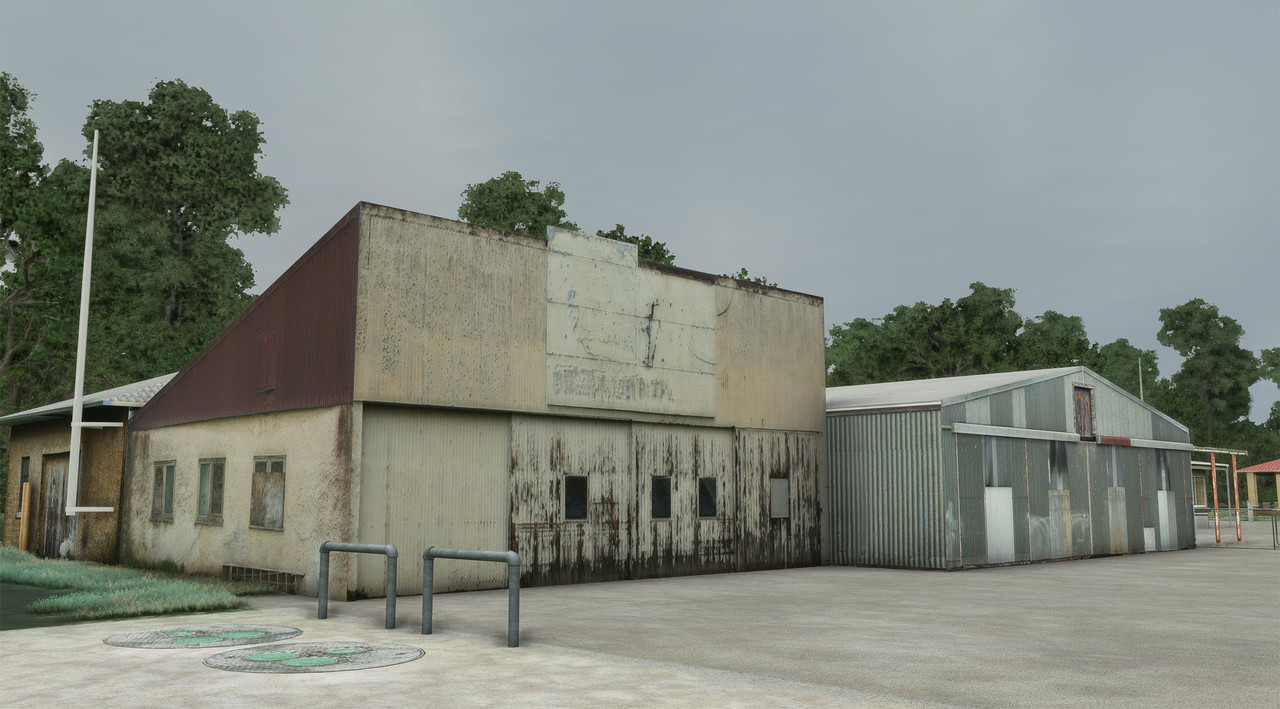 I revisited Taieri recently, to get updated photos and see what's new. This hangar has been tidied-up, the doors are the same but the rest is patched and repainted. I still prefer the old version, which you see here.
Speaking of retirement, this is another option I've considered lately. For the last three months I've been living off my mum's estate, and I've acutely aware that if I don't actually manage to sell anything in the next 6 months, when I can get my pension, then most of that will be gone. According to my calendar, it's 171 days until I turn 65. Yeah, I'm counting it down, why not? Apart from the fact that it isn't healthy to do that. But there is still the possibility that I can release something or two for MSFS, that will actually sell well. This is by no means certain, neither the release itself nor the good sales. A lot of people assume that there is a huge market for MSFS addons, but there are also an awful lot who are happy to use the default for as long as they can, and/or take advantage of the increase in interest in freeware releases. That's where relying on a market which is a tiny corner of a small niche market becomes quite fun. If 40% of my normal customer base chose not to use Godzone MSFS scenery, then 'fun' becomes 'interestingly scary'.
Still, a couple of things make that less of an issue. First, I'll still get the pension, so the likelihood of not covering the rent is a lot less. If I can gradually increase sales from MSFS products, then it would still be a good business for me. And secondly, developing for MSFS is just so much fun, I'd do it even if there wasn't any income. Ok, I could be bluffing, just don't call me on that.
So without any promises or commitments, here are some thoughts of how developing for MSFS could work.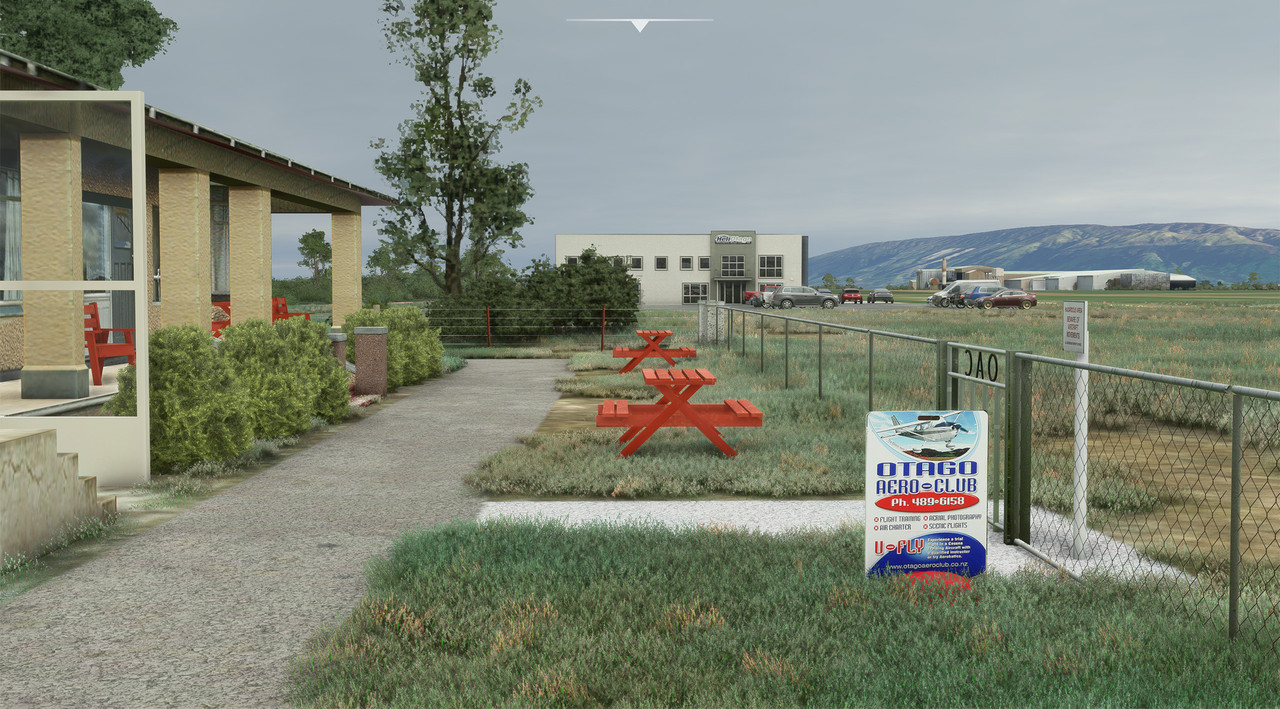 Oh, that grass! The real airfield is beautifully mown, I need to figure out how to display this.
As I've said, the sim is not finished yet, and hopefully it will always be an ongoing project. But I do notice the lack of certain things, all affecting NZ scenery, which I'd like to see addressed. Such as the mesh. This doesn't really affect my projects that much, this is just my own idea of what makes NZ great to fly in, mainly the pointy bits. Then there's the SDK, which is even less finished than the sim. Many developers are releasing projects which rely on some default features, simply because it's not possible to customise these yet. I will probably do the same, but there's still the hope that some of these will be addressed before my first MSFS release.
Which will be... hmmm. This is more of a business model, although as a businessman I make a great scenery developer. Here's the plan I'm going with at the moment, but it could change at any time. The plan -- or the Plan, if I'm being truly pretentious -- takes advantage of the photoscenery included in MSFS, so the need to make huge chunks of photoscenery just isn't there, so airports-only initially. And since some of these old chunks of photoscenery included more than one airport -- think Real NZ Dunedin -- it may make more sense to release individual airports. So while we are thinking Real NZ Dunedin, it's a good time to say that the first release may be Taieri, separately followed by NZDN. Taieri would not be everyone's choice, but it is mine, because it is the best project for an aging, non-aviation nerd with asperger's. It has character, charm, just enough detail to make it interesting, and isn't always overrun with dirty smelly aircraft roaring and belching. In fact, I like to sit at Taieri within the sim's development environment, and listen to the birds as I tweak the scenery.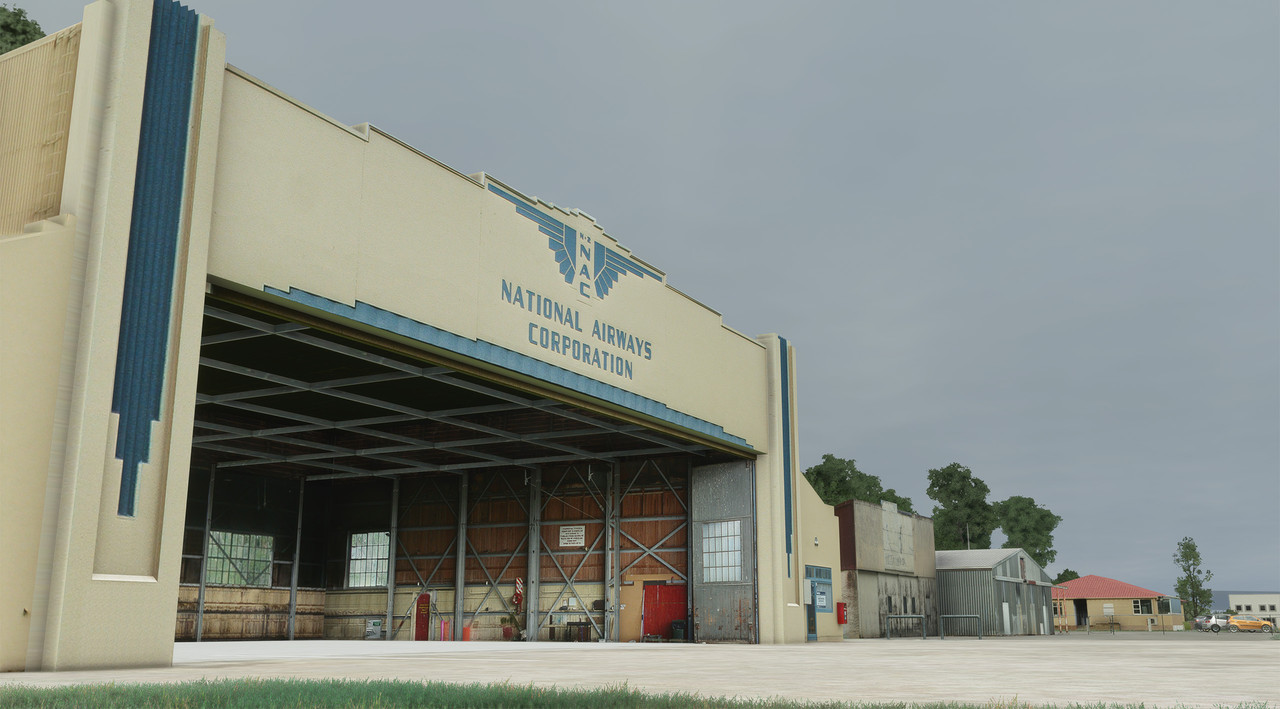 Pricing the Plan has taken some thought. Some ideas have been thrown away just because they are not relevant -- for example, in the past I've updated current scenery with each new version of Prepar3d. These are mostly quick fixes to make sure everything works as it should, but doesn't always include many newly introduced features. It makes sense to just update the current orders with the new download, so it doesn't mean charging for updates. Sure, it can take time to do the update, but this is recouped by selling more scenery. With MSFS, these won't be simply repackaging the P3D scenery. Forgot to mention, I'm talking new versions of the existing Real NZ scenery here. However this won't mean a total rebuild either -- I normally start with the existing 3D models, for instance, rather than start from scratch. But sometimes I do start from scratch, and most models are tweaked, plus have added detail. And although I start with the original textures, these are normally doubled in size, which means reprocessing all the photos which were used to build the textures, plus having to create the PBR elements. So to be fair, I might end up doing 60% more work, thereabouts. That's a guess, and not really based on anything except my gut, which coincidentally is 60% larger than it was before 2020....
It would therefore make sense to offer a discount for those who have purchased prior versions. There's just one technical reason why this won't happen, though. Take Nelson for instance, this will hopefully be reworked in MSFS soon. After the release of Nelson, I moved my online store to Wordpress/Woocommerce, and at the time I looked at the cost of moving all accounts, but in the end it wasn't affordable, so I have just left the old Store as it is, and if you want to redownload an old Store purchase, you just go through the old Store. Then there's Simmarket, and the old PC Aviator(?) stores. One outcome is that I really have no single database of those who own Nelson, so offering a discount becomes a complicated job. So option 2, just give everyone the discount. Makes perfect sense, especially taking into account the unknown market. Many people have said they want to pay less for MSFS addons, for whatever reason. So this is good way to try a cheaper product.
What this price will be is not yet set, but let's look at the current new Real NZ product price, NZ$38. For simplicity's sake we'll work with a 50% reduction, so a release like NZCH or Real NZ Dunedin would cost NZ$19. Now Real NZ Dunedin, which will essentially be release one and two, is made up of two smaller airports, so each could be NZ$9.50 each. This isn't the $5 airport which many have suggested, but close enough to EUR or US$5. NZCH would be NZ$19. Now one outcome might be that the market will grow to twice what it is now (or was before MSFS, really.) This is one reason why people want to pay less, they say 'hey, you'll have a much bigger market with MSFS, so it's fair to take the hit.' I can't see this happening, even if I get to support the Xbox version, as any gain in user numbers doesn't relate at all to the wants of real flightsim fans. And we ain't gonna suddenly get twice as many real simmers here in NZ.
But to balance this, as I've said, about 40 paragraphs ago, I'll be a pensioner soon, so at least the rent will be covered already. I'd like to earn a lot more, going forward, but it seems a lot more likely that I'll earn a lot less. But I'll still be doing what I love.