It's been one of those clunky years, with nothing actually finished, but lots of progress made under the hood. It would have been a real coup to finish NZCH before the end of the year, but it will be a bit longer -- the main issue is that the 'look' in Prepar3d v4.4 has changed enough to force me to review the techniques I used. I did take a few days off this week, though, and coming back I'm a bit happier with the current look. I change my mind all the time, though, and may end up redoing the tarmac textures completely.
Here's a look at the current state of NZCH.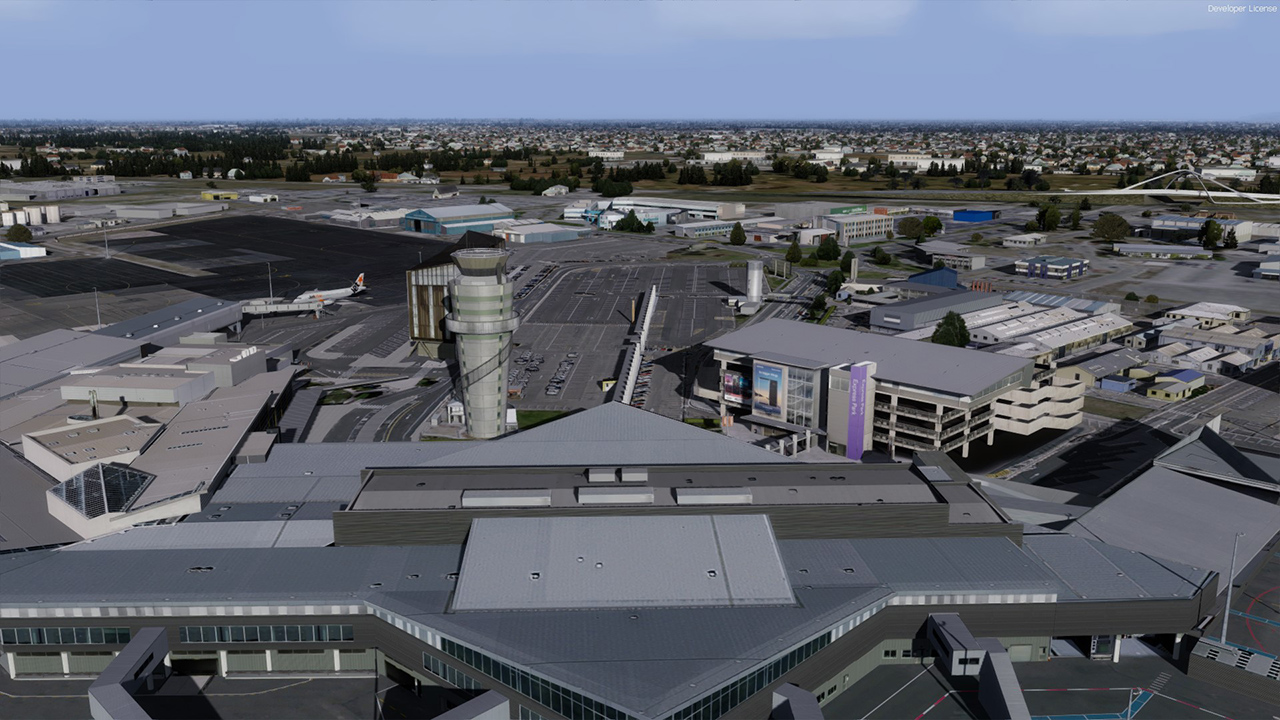 Most jetways are to come, and there are still a handful of outlying buildings to complete. Every time I visit the airport, there's another major change, which I've decided just to ignore. The scenery will represent the airport partly as it was at the beginning of the year, and partly later, unless there's another aerial image release from LINZ, as the underlying photo defines how things look. For example, I've left the old No 3 hangar which was demolished recently, as I don't have an image of what's underneath.
When the aero club took me flying, I was lucky enough to grab a couple of shots of the new developments attached to the runways -- Garden City Helis, and the new NZ Post tarmac etc, which I always intended to include. Still some work to do on these, especially NZ Post, which I finally plucked up the courage to just drive in and shoot some photos from the customer-side... Marty, you'd be proud, didn't even come close to getting trespassed!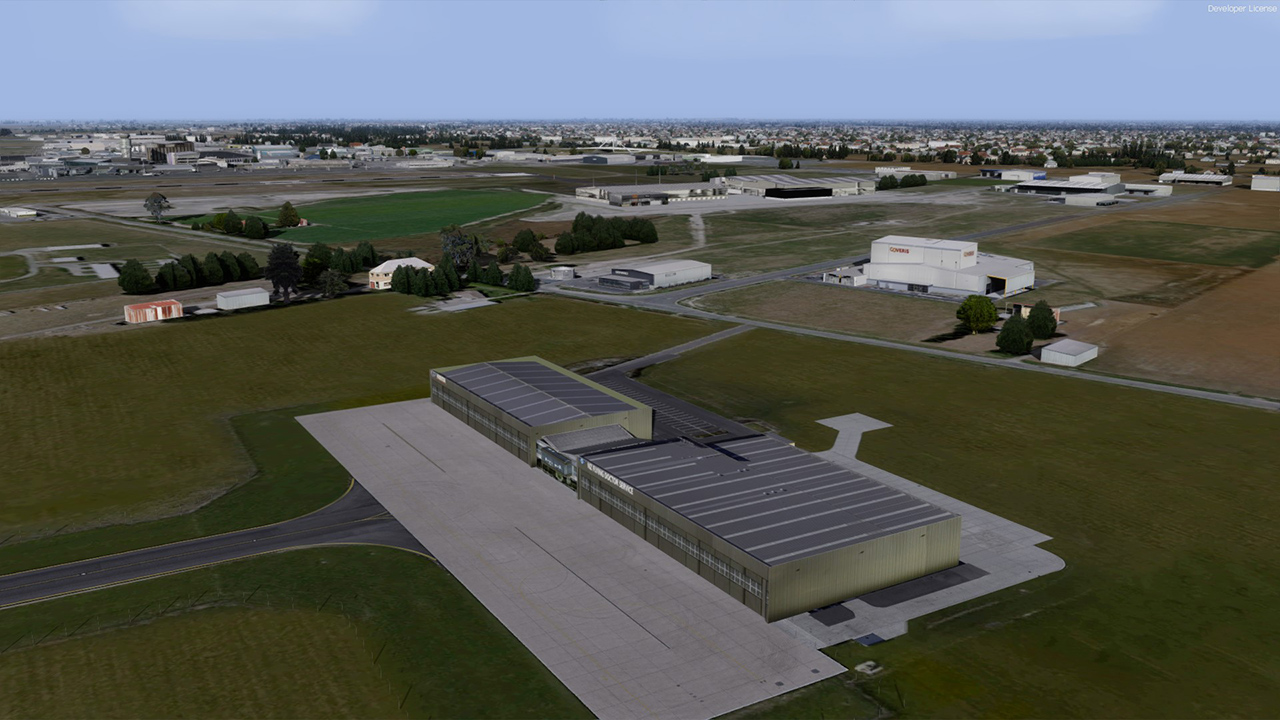 Speaking of updated aerials, LINZ have just this week released a new (well, newish, it's early 2018) image of the CBD. This is a real bonus, as the image I've been working with shows the CBD at the very early stages of rebuilding after the earthquakes, so it's good to get something a bit more developed.
Here's a before (2015) and after (2018) look: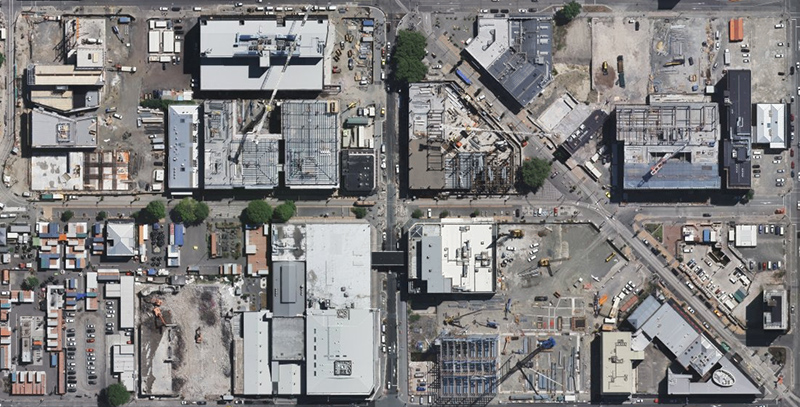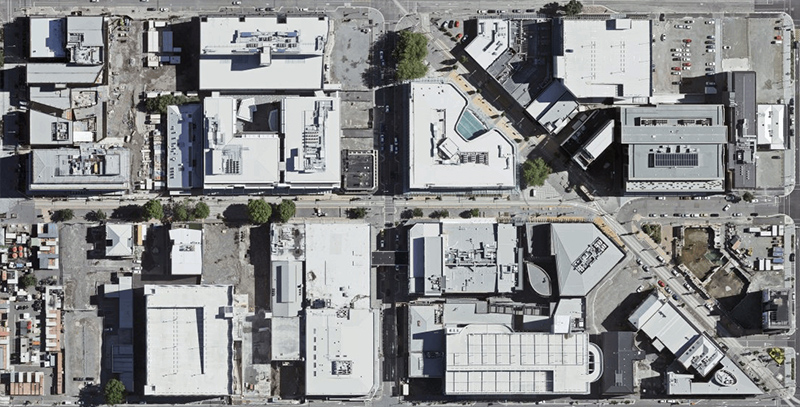 Still plenty of work to do on 'clutter', including vehicles etc. NZCH is annoying in that you can't see out the front to the tarmac except for the International lounges, which I can't get access to, so my normal plan to just model what's there doesn't really work. For the same reason, I won't be modelling the inside of the terminals, but that's not a major loss, it just means that when you pull up to a jetway at night, you won't be able to see inside the terminal... how I'll represent that is a bit of a mystery at the moment.
I did watch the Orbx roadmap stream this week, but they didn't give a lot away about 'true Earth' to come. It would be great if they did a NZ region for X-plane and/or Aerofly, as it would allow me to just concentrate on airports. It may happen, John has said that they'll do NZ, as it is one of the few places with free access to aerial images and data. Still, I will go ahead with NZCH for both of these sims, hopefully, and worry about what it sits on top of later... I have no intention of doing photoscenery for X-plane, though, just airports.
I'll be working through the holidays, as NZCH really needs to be finished before the summer is over. I did promise an early beta before Christmas, and although I had something ready to go, I did decide to rethink the look of it due to the subtle changes in P3Dv4.4. If I do end up changing anything, bear in mind that I won't be adding PBR materials to NZCH, that'll come in the next airport project, whatever that will be. Redoing materials with PBR would add months to the development, which I really couldn't cope with.
I have been looking at ways to speed up development, which is always an issue for just one old bloke. I have thought about outsourcing some work for X-plane and Aerofly, so if anyone -- preferably local* -- want's to try a major project for either of these sims, or convert an existing scenery, let me know. There are some things to be considered regarding 'ownership', as plenty of my customers already own anything produced by Godzone for the foreseeable future, but any arrangement would be as generous as I can manage.
*By 'local', I mean within NZ, of course.
Have a good Christmas, everyone, take care!